MAGAZINE PUBLISHED BY CHRISTIAN STANDARD MEDIA HIGHLIGHTS BOTH ITS FOUNDING VISION IN 1866, AND ITS EXAMINATION OF CONTEMPORARY
CHRISTIAN LEADERSHIP ISSUES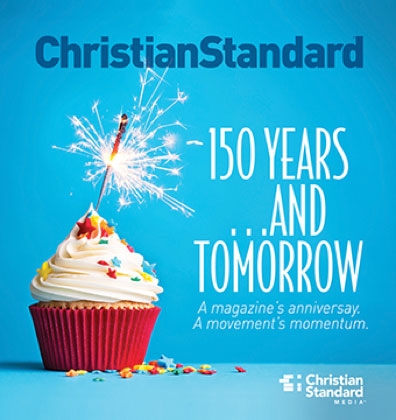 Cincinnati, OH – April 28, 2016 –With the publication of its April 2016 issue, Christian Standard magazine is celebrating its 150th anniversary.
First published April 7, 1866, the magazine produced a new issue every week till August 26, 2012, except for one week in 1937 during the great flood in Cincinnati, OH where it's still produced. Since September 2012 the magazine has published 68 pages monthly. (The magazine's editorial calendar for 2016 & 2017 can be accessed here: Download Here
Although the magazine has taken many formats over the years, throughout its history its masthead has read, "Devoted to the restoration of new Testament Christianity, its doctrine, its ordinances, and its fruits."
"We seek today not only to uphold right doctrine, but also to serve as a chief curator of content for the fellowship of Christian churches and churches of Christ and their leaders worldwide," said editor and publisher Mark A. Taylor.
"This movement of independent congregations is making a difference for God on many fronts, and we're thanking him for Christian Standard's role in teaching, leading, and connecting these congregations," wrote Rick Warren, lead pastor with Saddleback Church in Lake Forest, California.
"Christian Standard has always been biblical and practical, willing to tackle the tough topics with both grace and truth," wrote Dave Stone, senior pastor with Southeast Christian Church, Louisville, Kentucky. "Every issue encourages my heart, feeds my soul, and reminds me of my roots."
The April anniversary issue not only recaps the magazine's history, but also interviews key leaders who offer challenges for the church of the future. Another article reports insights and opinions from leaders in the Christian churches who talk about keeping balance between staying connected to this group while serving with and learning from those in other Christian groups.
"Our anniversary theme is '150 Years Today and Tomorrow,'" said Peter M. Esposito, CEO Christian Standard Media. "This publishing milestone is a significant piece of history, but we're looking to a bright future for this magazine and the churches it serves."
The magazine traces its history to a meeting of Christian leaders who believed a growing interest in nondenominational Christianity would be well served with a new journal. Members of that group included T.W. Phillips, James A. Garfield (who would go on to become a U.S. President), and Isaac Errett, who was the magazine's first editor, serving until his death in 1888.
The long-acclaimed Christian Standard magazine also produces a robust website, ChristianStandard.com, and publishes digital editions on an app available for Apple, Android, and Kindle devices. Additionally, it is available as an individual or church (bulk) subscription. Learn about their anniversary celebration subscription discount available through June 30, 2016 at ChristianStandard.com/subscriptions.
Christian Standard Media LLC is committed to continuing the 150-year tradition as a Christian mission-driven leader in true-to-the Bible resources that educate, encourage, and enrich adults, youth, and children. From the founding of a journal devoted to New Testament Christianity in 1866 to the first publication of Vacation Bible School (VBS) materials with a five-week, all day program in 1923 to its contemporary publication of its award-winning 2015 and 2016 VBS – Christian Standard Media is continuing the legacy of serving church communities worldwide.
The mission, "to provide true-to-the Bible resources that inspire, educate, and motivate people to a growing relationship with Jesus Christ," has guided the company's rich history and now infuses Christian Standard Media's drive to remain a trustworthy Christian ministry partner in a rapidly changing world. The company is based in Cincinnati, Ohio. For more information, visit ChristianStandardMedia.com, ChristianStandard.com , LookoutMag.com or call 800.543.1353.